Love & Toasters: 5 Vintage Christmas Advertisements that'll Give you a Laugh
We had so much fun looking at vintage Christmas decorations last week that we wanted to dive into the world of vintage Christmas advertisements this week! From an edgy Bates ad from our archive to the helpful advice of a little crying, we hope you enjoy these festive blasts from the past.
1. Bates Manufacturing Company
We love the look and sass of this vintage Bates ad from the 1960s. This was actually one of several ads that featured beautiful women donning bold bedspreads that were popular in the flower power years.
2. Ouija Board featuring the Pressing Questions of 1962
We love this ad featuring the classic board game, Ouija, and the pressing questions of the 1960s. From flying saucers to the everyday concerns of teenagers, it's amazing how some themes hold through the years.
3. Cry a Little for Appliances
We were torn between featuring this ad with the advice to cry a little but not too much, and this other ad that features miniature versions of gifts you could slip into his pocket. We think the advice of a little crying may be more productive and like that no purchases are required... We'll ignore the constant reminder of women's place in the home though. By the way, Bates is a proudly women-owned and -operated company - thought it may be a good time to mention this. ;)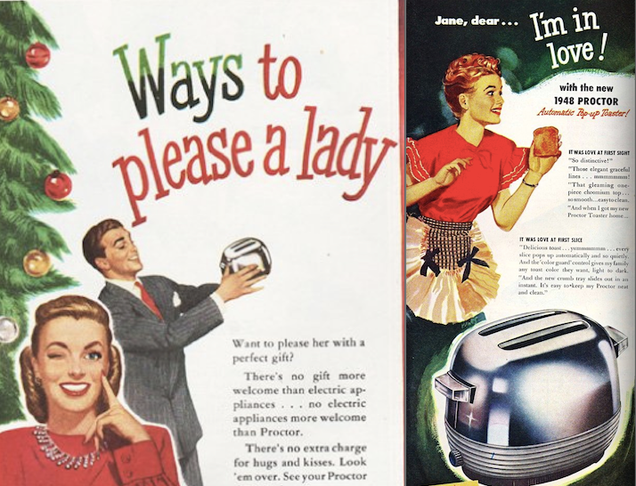 4. Please a Lady... With a Toaster
Another vintage ad, another appliance for us ladies. Who knew such a simple appliance could bring us such joy? We do have to admit, that is a good looking toaster, and we do wish our husbands would appreciate all our appliances like that man in the ad appreciates that toaster. 5. Hoover, 1959
While this image does say it all, the magic is really in the text in this one: "She cares about her home, you know, so if you really care about her..." Nothing says love like a new vacuum! That being said, we have been eyeing those new robot vacuums the last few years so maybe these vintage ads aren't so off... 
Have your own favorite ad from the past? Share in the comments.