New Year, New Look: 5 American Made Home Decor Accents to Inspire You in 2016
January 13, 2016 21:17
As we kick off 2016, we're all thinking about this opportunity as a time for a reset. One of the best ways to help center yourself and to set yourself up to achieve your new goals is to make sure your home not only relaxes but inspires. We picked out 5 of our favorite American made home decor items to help bring a fresh look to your home that will bring that new, centered focus to 2016.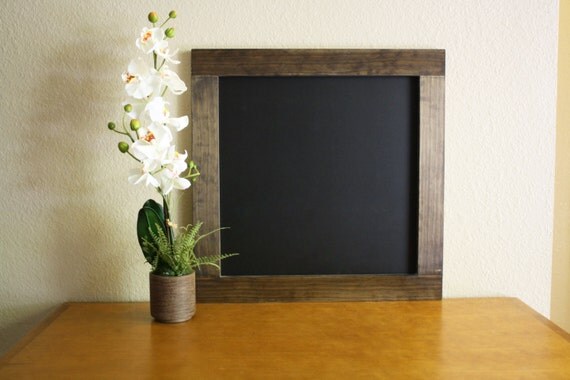 Source: OAKYdesigns on Etsy
1. Rustic Framed Chalkboard by OAKYdesigns
Made by a family in Idaho, these beautiful chalkboards add a great rustic design element to your home. They also serve as a great spot to focus your day with a to do list or simply inspire you with your favoriate motivational quote. 
Dunn Edwards Paints have been made in USA since 1925. Source: dunnedwards.com 
2. American Made Paint by Dunn Edwards Paint
Completely refresh your home with a new shade. Though a heartier project than a simple accent, a fresh coat of paint can bring a new feel to any room. Be sure to pick a color that inspires you and re-energizes you. 
Source: Rayne Mirrors
3. American Made Rayne Dark Walnut Picture Frame
Made in Missouri, Rayne Mirrors specialize in many framed products including mirrors, frames and cork boards. We love their gorgeous dark walnut picture frame that is a beautiful piece to feature in your home. Bring a smile and a bit of inspiration to your day by featuring a photo of a favorite memory in this gorgeous frame. 
Source: Pairpoint Glass
4. Tall Heritage Line Vase in Aqua - Pairpoint
Pairpoint, America's oldest glass company, makes a variety of accents for the home. We love keeping fresh flowers in our homes to bring in a touch of color and a fresh scent into the sometimes stuffy air of winter. The beautiful vase is a gorgeous piece of glassware from Pairpoint's Heritage Collection that will bring a stylish touch to any room in your home. 
Infatuation by Cynthia Perdiago (Source: ArtLifting.com)
5. Artwork from ArtLifting  - http://www.artlifting.com/
For many of us, artwork can speak to us and inspire us in many different ways - and it also adds a beautiful detail to any room. Explore ArtLifting's array of works to find what reflects your desires for 2016 and feel extra good since all their artwork supports homeless and disabled individuals (who happen to be the creators of the art as well!). 
Have a favorite American made home accent that inspires you each day? Share in the comments below.